Standard models have a .190 bottom with 2″ x 2″ x .125 sealed ribs spaced 10″ apart with a .125 floor (smooth or diamond plate) and 2″ of Styrofoam flotation. Front deck is partially filled plus two flotation boxes in rear are also filled with Styrofoam flotation.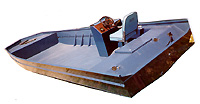 The .125 sides 24″ high with a 1-1/2″ pressed Vee rib. Gunnels are 1 – 5/8″ O.D. and transoms are 20″. Every CLARK BOAT is designed and set up to meet the individual requirements of its new owner. From the console placement to storage to live wells, coolers and tackle boxes, every detail of the final layout is specifically matched to the way the boat will be used and the new owner's specification. We can build these with a flat front or Vee, flat bottom or Vee bottom.
All Clark Boats meet Coast Guard Requirements.
All types of pontoon Work Boats